Material tests on all major foams, rubber like materials and plastics have been performed. The specimens were taken from components of the WorldSID or from blocks provided by FTSS. The material test samples are depicted below.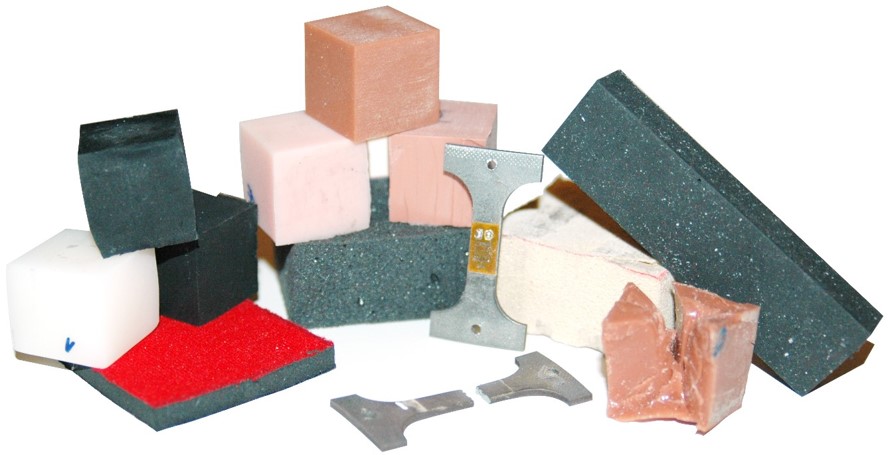 Material test samples of WorldSID
The following types of tests were performed: Static tension tests, dynamic tension tests, static compression tests, and dynamic compression tests. These tests were chosen to obtain material data that could be used with very small adaptations for material *MAT_FU_CHANG_FOAM and *MAT_SIMPLIFIED_RUBBER for foam and rubber parts, respectively. 
The following materials were tested:
  
All neck rubber materials (three different)
Thorax pad foam (Ensolite)
Blue rib damping material
The emphasis was on static and dynamic tension and compression tests. For the rubber like materials, the compression tests were also performed with a lateral obstructed expansion.
The used strain rates used for the foam and rubber materials were:
| Test | Type | Strain rate | Lateral expansion |
| --- | --- | --- | --- |
|  1 | Tension | 0.001 1/s(static) | free |
|  2 | Tension | 0.1 1/s | free |
|  3 | Tension | 20 1/s | free |
|  4 | Tension | 100 1/s | free |
|  5 | Tension | 400 1/s | free |
|  6 | Compression | 0.001 1/s(static) | obstructed |
|  7 | Compression | 0.001 1/s(static) | free |
|  8 | Compression | 0.1 1/s | free |
|  9 | Compression | 20 1/s | free |
|  10 | Compression | 100 1/s | free |
|  11 | Compression | 400 1/s | free |